HardCore Mode
Jump to navigation
Jump to search
HardCore Mode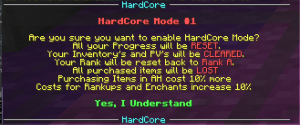 HardCore Mode is a custom GameMode within Dank Prison that alters GamePlay to provide an entire unique and different experience that you would otherwise be unable to have.
HardCore Mode is not designed for everyone so please only enter HardCore Mode if that's the play style you enjoy.
Commands
| Command | Description |
| --- | --- |
| /hardcore | Enter HardCore Mode after C1+ |
| /petbundle | Allows you to add yourself to the Pet Bundle List |
What is HardCore Mode?
HardCore Mode can only be activated after Reaching C1+ Rank (HardCore Mode can be completed multiple times increasing difficultly)
Entering HardCore Mode causes a complete account Reset meaning your account will be Reset to as if you've never joined the server before.
Your Inventory and Player Vaults will be Cleared
Your Prison Rank will be reset back to Rank A (Donator Ranks are uneffected)
All Purchased in game receivables will be lost including Pets and items received from Donator Ranks
Purchasing Items in Auction House will Cost 10% more per Hardcore Level
Selling Items in Auction House will cost 5% Tax per Hardcore Level on sold amount
Artifacts Max Level Cap of HardCore Mode is (15+(5*HardCore Level))%
HardCore Mode players unlock a unique Enchants viewable in /hce
Need to Know
HardCoring allows you to retain any god armor you are currently wearing into the next HardCore.
HardCoring allows you to retain any sword you are currently holding in your mainhand into the next HardCore.
HardCoring allows you to retain any Relic you are currently holding in your offhand into the next HardCore.
Purchasing Pet Bundle or acquiring all pets and doing /pb will give you a Fresh set of Level 1 UNSELLABLE pets in your /pbp upon HardCoring (Excluding special and exclusive pets)