Sets
Jump to navigation
Jump to search
Sets Menu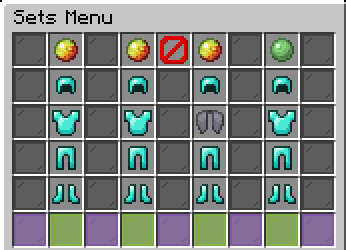 The Sets Menu allows you to store 4 sets of armour and associated relics in a menu. Once the set has been added to the menu you can equip the set to give you the awakenings and bonus from a God Kit.
Sets Need to Know Info
You can Store Armor, Elytra's, and Relics in Sets Menu.
Storing armor in sets menu allows you to quickly select which which set bonuses you want active.
Activating a set in the Sets Menu does not Swap your currently worn armor instead it overrides stats used in calculations instead of using your currently worn armor, the stats used for Awakening Bonuses, and God Kit Bonuses.
(You can use /setbonus to view active gkit and /awaken to see you Awakening bonuses to help understand)
Selecting a Set in the Set Menu will not provide Enchant Effects or Potion Effects from armor in the Sets Menu you will still gain that from your currently worn armor.
Armor in the Sets Menus is for selecting quickly between gkits, and your different armor with awakening bonuses without needing to physically swap gear.
Sets How to Use
To add an item to the Sets menu you need to use the command /set add <Set #> while holding the piece of armor or relic you want to add.
To remove an item from the Sets Menu you can either click it via menu or you can use /set remove <Armor Type> <Set #>
Clicking the barrier will remove current armor selection and default to using bonuses from your currently worn armor.
Currently selected armor is represented as a Slime ball in the menu.
By clicking on the pickaxes and rod in the menu you can automatically activate sets for when mining, fishing and using a nethermine key.
Sets How To Unlock
Sets Empowerment gets 1 Set Slot.
The Dankest Donator Ranks gets 2 Set Slots.
The Most Dankest Donator Ranks gets 4 Set Slots.
Commands
| Command | Description |
| --- | --- |
| /sets | Opens the sets menu. |
| /set add <num> | Adds an item you are holding the set number you input. |
| /set <num> | Equips the set selected |