Plinko
Jump to navigation
Jump to search
Plinko
The Plinko came from a crazy idea I had some years ago, and turned it into reality.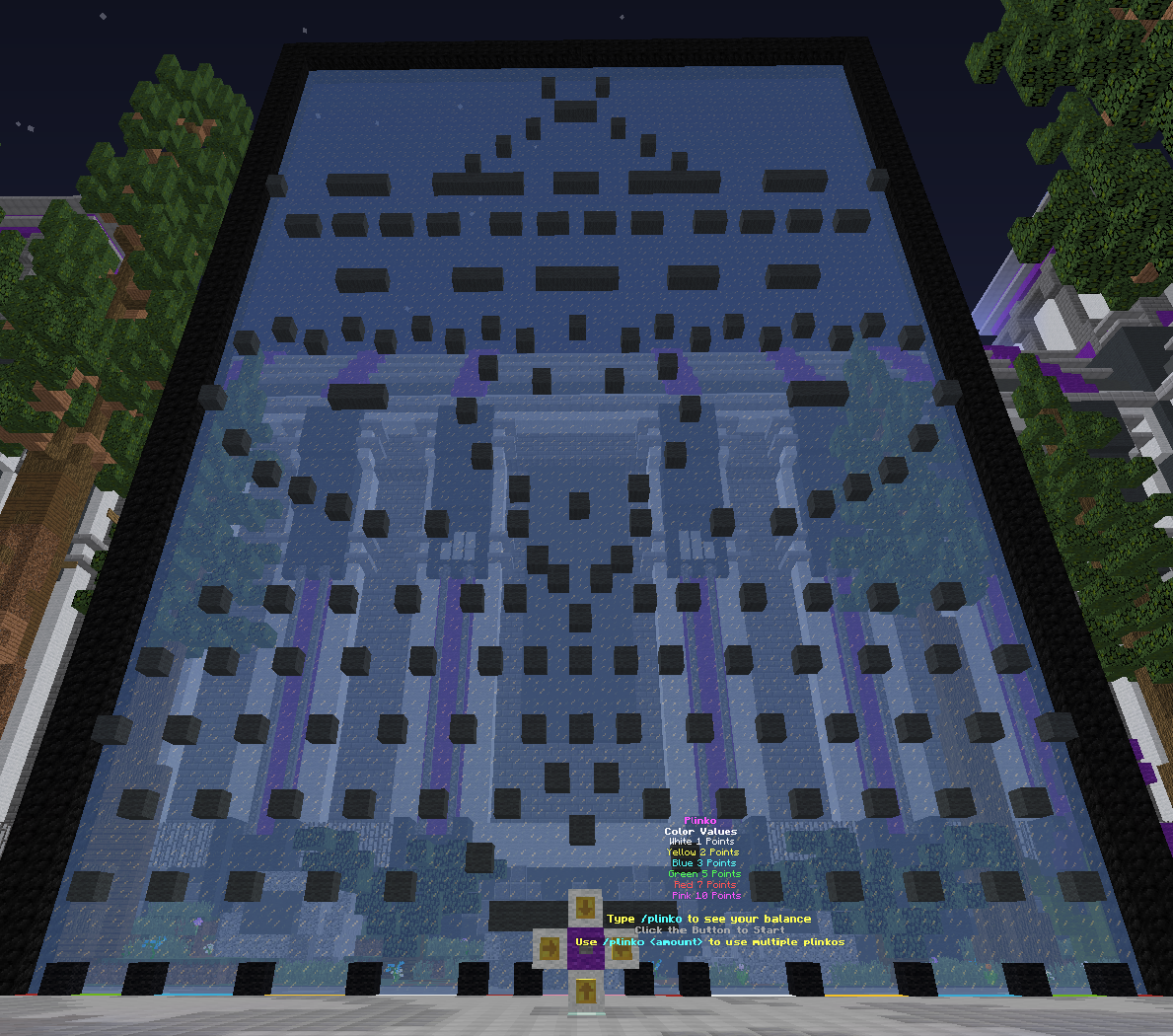 How to Obtain Plinko Attempts
Plinko can be earned from the Lucky Plinko Pet while Mining, Fishing, AutoMining, or OverDriving.
Plinko can be earned from Lucky Block, and Lucky Block+.
Plinko can be earned from Voting with /vote.
Plinko can be earned from Vote Rewards /vr
Plinko can be earned from the Daily Bonuses. /db
Plinko can be earned from Vote Party, Vote Party+, Donation Party, and Donation Party+ Crates.
Plinko comes with certain Donator Ranks purchased on our Store or with /buy.
Plinko Info
To start Plinko, you must click the button at /w plinko'. Teleport can be accessed in the /warps menu.
With the Immortal Donator Rank, Plinko can be started remotely using /plinko start.
Plinko is a minigame based off the Plinko game from the TV Show, "The Price is Right".
Upon starting plinko, a block will spawn at the top of the plinko board and randomly fall down the board, landing on a random wool color, which determines your prize.
You can never lose at Plinko – you always win something.
Multiple attempts can be used with the command /plinko <amount>, multiplying your reward by said amount.
Your prize will either be Crates, AutoMiner time, DragonLair time, MineBooster time, or Keys.
Commands
| Command | Description |
| --- | --- |
| /plinko | View your Plinko balance |
| /plinko <player> | View specified players Plinko balance |
| /plinko <amount> | Allows you to Combine Multiple Plinko Attempts to multiply rewards. |
| /w plinko | Warps you to Plinko |
Wool Colors
| Wool Color | Points |
| --- | --- |
| White Wool | 1 Point |
| Yellow Wool | 2 Points |
| Blue Wool | 3 Points |
| Green Wool | 5 Points |
| Red Wool | 7 Points |
| Pink Wool | 10 Points |