Plinko
Jump to navigation
Jump to search
Plinko
The Plinko came from a crazy idea I had some years ago, and turned it into reality.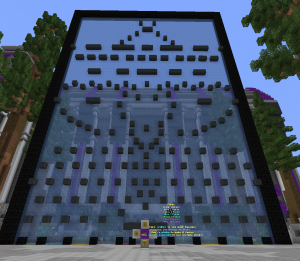 Plinko Info
To start Plinko you must click a button in Spawn Area infront of Plinko. Teleport can be accessed in the /warps menu
Plinko is a minigame based off the Plinko idea from the TV Show The Price is Right.
Upon starting plinko a block will spawn at the top of the plinko board and randomly fall down the board landing on a random wool color which determines your prize.
You can never Lose at Plinko you always win something.
Commands
| Command | Description |
| --- | --- |
| /plinko | View your Plinko balance |
| /plinko <player> | View specified players Plinko balance |
| /plinko <amount> | Allows you to Combine Multiple Plinko Attempts to multiply rewards. |
| /w plinko | Warps you to Plinko |
| /s plinko | Toggles Fast Mode Setting for Plinko |
Wool Colors
| Wool Color | Points |
| --- | --- |
| White Wool | 1 Point |
| Yellow Wool | 2 Points |
| Blue Wool | 3 Points |
| Green Wool | 5 Points |
| Red Wool | 7 Points |
| Pink Wool | 10 Points |
Rewards
| Points | Potential Rewards |
| --- | --- |
| 1 Point Reward | 1x Legendary Crate |
| 1 Point Reward | 1 Minute of Auto Miner Time |
| 1 Point Reward | 1 Minute of Dragon Lair Time |
| 1 Point Reward | 1 Minute of Dragon Booster Time |
| 1 Point Reward | 3x Rankup Keys |
| 1 Point Reward | 3x Rankup+ Keys |
| Points | Potential Rewards |
| --- | --- |
| 2 Point Reward | 1x UltraLegendary Crate |
| 2 Point Reward | 2 Minutes of Auto Miner Time |
| 2 Point Reward | 2 Minutes of Dragon Lair Time |
| 2 Point Reward | 2 Minutes of Dragon Booster Time |
| 2 Point Reward | 3x Vote Keys |
| 2 Point Reward | 3x Vote+ Keys |
| Points | Potential Rewards |
| --- | --- |
| 3 Point Reward | 1x Pure Crate |
| 3 Point Reward | 3 Minutes of Auto Miner Time |
| 3 Point Reward | 3 Minutes of Dragon Lair Time |
| 3 Point Reward | 3 Minutes of Dragon Booster Time |
| 3 Point Reward | 3x Mine Keys |
| 3 Point Reward | 3x Mine+ Keys |
| Points | Potential Rewards |
| --- | --- |
| 5 Point Reward | 1x UltraPure Crate |
| 5 Point Reward | 5 Minutes of Auto Miner Time |
| 5 Point Reward | 5 Minutes of Dragon Lair Time |
| 5 Point Reward | 5 Minutes of Dragon Booster Time |
| 5 Point Reward | 3x UltraMine Keys |
| 5 Point Reward | 3x UltraMine+ Keys |
| Points | Potential Rewards |
| --- | --- |
| 7 Point Reward | 1x Dank Crate |
| 7 Point Reward | 7 Minutes of Auto Miner Time |
| 7 Point Reward | 7 Minutes of Dragon Lair Time |
| 7 Point Reward | 7 Minutes of Dragon Booster Time |
| 7 Point Reward | 3x Prestige Keys |
| 7 Point Reward | 3x Prestige+ Keys |
| Points | Potential Rewards |
| --- | --- |
| 10 Point Reward | 1x UltraDank Crate |
| 10 Point Reward | 10 Minutes of Auto Miner Time |
| 10 Point Reward | 10 Minutes of Dragon Lair Time |
| 10 Point Reward | 10 Minutes of Dragon Booster Time |
| 10 Point Reward | 1x Master Keys |
| 10 Point Reward | 1x Master+ Keys |