ShowCase
Jump to navigation
Jump to search
ShowCase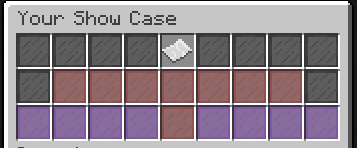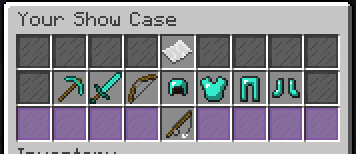 Dank Prison utilizes a Custom ShowCase System created specifically for Dank Prison that is unlike any other server.
ShowCase Info
All Players start with an Empty ShowCase.
You must manually add Items to ShowCase.
Acceptable ShowCase items are Diamond Pickaxes, Relics, Diamond Swords, Diamond Armor Sets, Bows, and Fishing Rods.
You can use setting /s showcaseupdate to automatically update your pickaxe in your showcase when Enchanting.
For a player to be eligable for the /pwtop (pickaxe worth top) leaderboard, they must add a pickaxe to their showcase.
ShowCase Commands
| Command | Aliases | Description |
| --- | --- | --- |
| /showcase | showoff | Opens your ShowCase |
| /showcase <player> | showoff | Opens Specified Players ShowCase |
| /showcase add | | Adds your held item to your ShowCase |
| /playerworth <player> | /pw | Displays Pickaxes total Enchant Token Value worth of specified players Showcase Pickaxe |