Slots
Jump to navigation
Jump to search
Slots
The Slots minigame is based on a real life slot machine.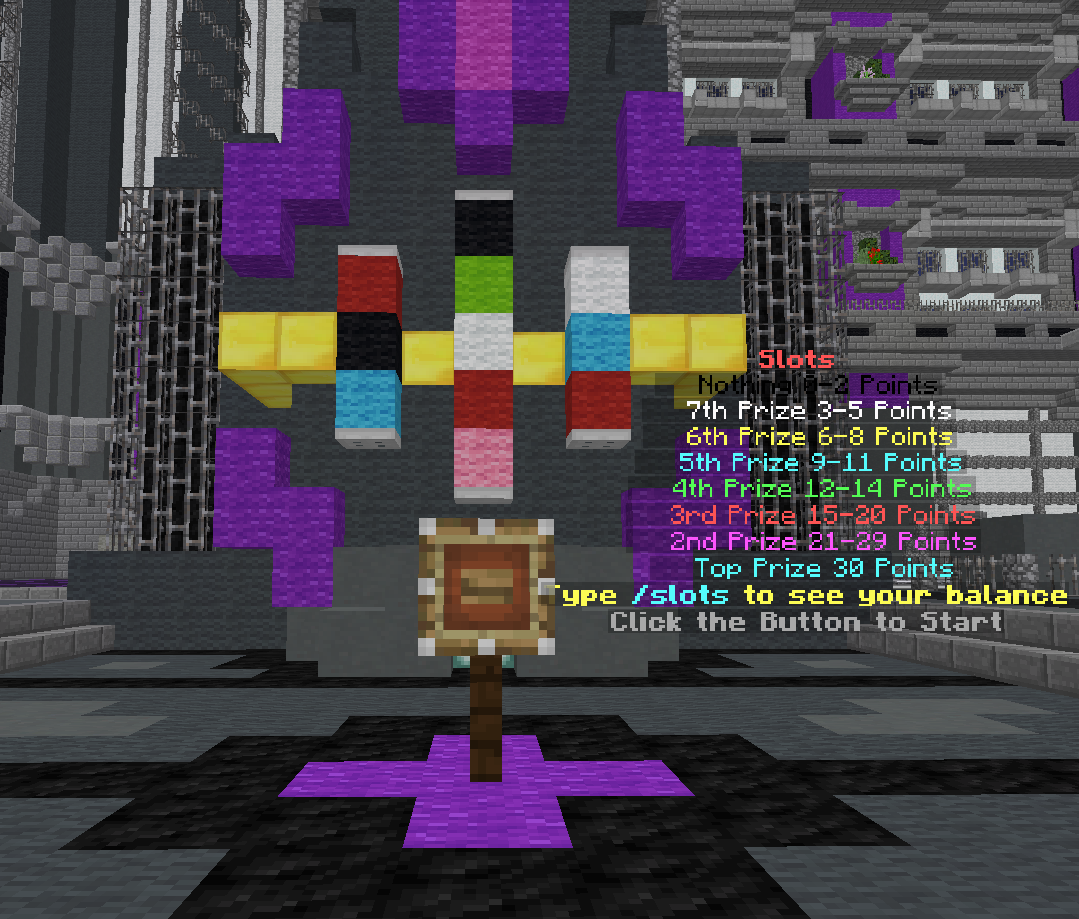 How to Obtain Slot Spins
Slots can be earned from the Lucky Slots Pet while Mining, Fishing, AutoMining, or OverDriving.
Slots can be earned from Lucky Block, and Lucky Block+.
Slots can be earned from Voting using /vote.
Slots can be earned from Vote Party, Vote Party+, Donation Party, and Donation Party+ Crates.
Slots Info
To start Slots. you must click the button at /w slots. Teleport can be accessed in the /warps menu.
With the Immortal Donator Rank, Slots can be started remotely using /slots start <amount>.
Slots are simple to use: you spin the slots and can get awesome in game rewards.
You get bonus rewards for getting three of the same (non-black) wool types in a row.
Having a score of 0-2 means you win nothing; you do not lose items from slots.
Your prize will either be Crates, AutoMiner time, DragonLair time, MineBooster time, or Keys. There is also a rare chance to win a Lucky Pet Block.
Commands
| Command | Description |
| --- | --- |
| /slots | View your Slots balance |
| /slots <player> | View specified players Slots balance |
| /slots start <amount> | Allows you to schedule multiple slots to run one after another (requires Immortal Donator Rank to use) |
| /w slots | Warps you to Slots |
Wool Colors
| Wool Color | Points |
| --- | --- |
| Black Wool | 0 Points |
| White Wool | 1 Point |
| Yellow Wool | 2 Points |
| Blue Wool | 3 Points |
| Green Wool | 5 Points |
| Red Wool | 7 Points |
| Pink Wool | 10 Points |