Gang Perks
Jump to navigation
Jump to search
Gang Perks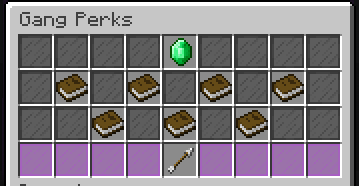 Dank Prison utilizes a custom Gang System created specifically for Dank Prison that is unlike any other server.
Gang Perks Info
There are 10 purchasable Gang Perks that you can buy once you purchase a Perk it lasts for ever for that gang.
There is Money, Token, Lucky Block, Lucky Block+, Relic, Lucky Pet Block, Auto Miner, Artifact, Momentum, Gem, Gang Perks.
Max Level of each Gang Perk is 7.
Entire Gang benefits from Gang Perks.
Gang Perks Commands
| Command | Description |
| --- | --- |
| /gang deposit <amount> | Allows you to deposit specified amount of Money into the Gang Bank |
| /gang perks | Opens your Gang Perks Menu |
Gang Perks Bonus
| Level | Bonus |
| --- | --- |
| 1 | 3% Bonus |
| 2 | 6% Bonus |
| 3 | 9% Bonus |
| 4 | 12% Bonus |
| 5 | 15% Bonus |
| 6 | 18% Bonus |
| 7 | 21% Bonus |
Gang Perks Level Cost
Money, Token, Lucky Block, and Lucky Block+ Gang Perk Cost

| Level | Money Cost |
| --- | --- |
| 1 | $5,000,000,000 |
| 2 | $50,000,000,000 |
| 3 | $500,000,000,000 |
| 4 | $5,000,000,000,000 |
| 5 | $50,000,000,000,000 |
| 6 | $500,000,000,000,000 |
| 7 | $5,000,000,000,000,000 |
Lucky Pet Block, AutoMiner Gang Perk Cost

| Level | Money Cost |
| --- | --- |
| 1 | $500,000,000,000 |
| 2 | $5,000,000,000,000 |
| 3 | $50,000,000,000,000 |
| 4 | $500,000,000,000,000 |
| 5 | $5,000,000,000,000,000 |
| 6 | $50,000,000,000,000,000 |
| 7 | $500,000,000,000,000,000 |
Artifact Gang Perk Cost

| Level | Money Cost |
| --- | --- |
| 1 | $5,000,000,000,000 |
| 2 | $50,000,000,000,000 |
| 3 | $500,000,000,000,000 |
| 4 | $5,000,000,000,000,000 |
| 5 | $50,000,000,000,000,000 |
| 6 | $500,000,000,000,000,000 |
| 7 | $5,000,000,000,000,000,000 |
Momentum, Gem, and Relic Gang Perk Cost

| Level | Money Cost |
| --- | --- |
| 1 | $50,000,000,000,000 |
| 2 | $500,000,000,000,000 |
| 3 | $5,000,000,000,000,000 |
| 4 | $50,000,000,000,000,000 |
| 5 | $500,000,000,000,000,000 |
| 6 | $5,000,000,000,000,000,000 |
| 7 | $50,000,000,000,000,000,000 |