Voting
Jump to navigation
Jump to search
Voting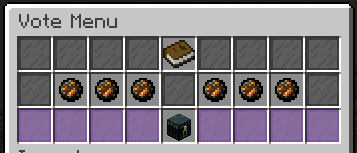 Dank Prison utilizes a custom Voting System created specifically for Dank Prison that is unlike any other server.
Voting Info
There are 6 Vote Links you can vote on for Dank Prison. Voting helps the server out.
A Vote Party happens when 50 server wide votes happen.
Vote Party
Vote parties happen every 50 votes. Whenever a vote party triggers, you will receive either a Vote Party crate or a Vote Party+ crate.
There is a 10% chance for it to be a VoteParty+ crate.
Voting Links
Potential Voting Rewards
Vote Commands
| Command | Aliases | Description |
| --- | --- | --- |
| /voteparty | /vp | Displays amount of Votes needed until the next Vote Party |
| /vote | /v, /voting | Opens the Voting Menu |
| /voterewards | /vr, /votereward | Opens the Voting Rewards Menu where you can trade Vote Points for items |
| /votetop | /vtop | Displays Vote Top LeaderBoard. |
| /mvotetop | /mvtop | Displays Vote Monthly Top LeaderBoard. |
Vote Points Rewards Shop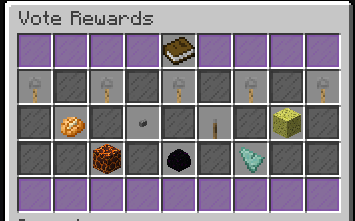 Vote Points Rewards Shop Info
Vote Points are used to buy Vote Reward Prizes
Vote Rewards Pet allows a discount on items in the Vote Rewards shop, with a varying discount depending on the tier/level, with a 35% discount when maxed at ++ level 11.
Vote Point Rewards